Employer Resource Network
Employer Resource Networks transforms companies one employee at a time through the support and growth of existing employer resource networks, the development of new networks, peer learning across all partners, and in-depth evaluation to demonstrate high impact for employees, employers, government and communities.
Benefits:
Workers gain economic self-sufficiency for themselves and their families.
Employers retain an engaged and skilled workforce.
Public agencies and nonprofits get better outcomes from programs that advance economic independence.
Community colleges add students and build closer ties to area businesses.
Employers benefit from ERNs when job turnover rates and the cost of skill building and training decrease and productivity increases. ERN member businesses average 150%-600% return on their investment following the initial startup period.
When entry-level wages are insufficient or there are barriers to consistent and successful job performance, employees get help accessing public benefits, ongoing skills training and counseling to overcome challenges to a successful and productive life.
LSS's ERN program "Shared Success" Stats for 2022
Employer Return on Investment: 901%
Total Employee Requests: 525
Total Employees Served: 257
Total Services Served: 1,178
Whitnee Smith
Shared Success
ERN
Success Coach
When an employee is ready to tackle the next steps in their life but they need to take care of immediate questions and problems, that's where Whitnee Smith comes in. Whitnee is the Shared Success Employer Resource Network Success Coach.
Whitnee is a LSS of Northwestern Ohio employee who works with the ERN, a collective of employers who purchase "shares" that give them access to the program and success coach. Local employers in the Shared Success ERN include TH Plastics, Rosenboom Custom Crafted Cylinders, Filling Memorial Home of Mercy and Luther Home of Mercy.
"I am unbiased, I'm on the outside looking in," Whitnee said. "I go off the facts, what they're telling me, and I get both sides. Then we come together and I can offer a suggestion."
Employees are welcome to stop into Whitnee's office, and sometimes employees are encouraged by managers or human resources to seek her out. Employees can also schedule appointments with Whitnee, whether on-site or at a location away from work.
The Shared Success Employer Resource Network with LSS has shares available for employers to purchase. For more information on how to join the program please call 419-243-9178.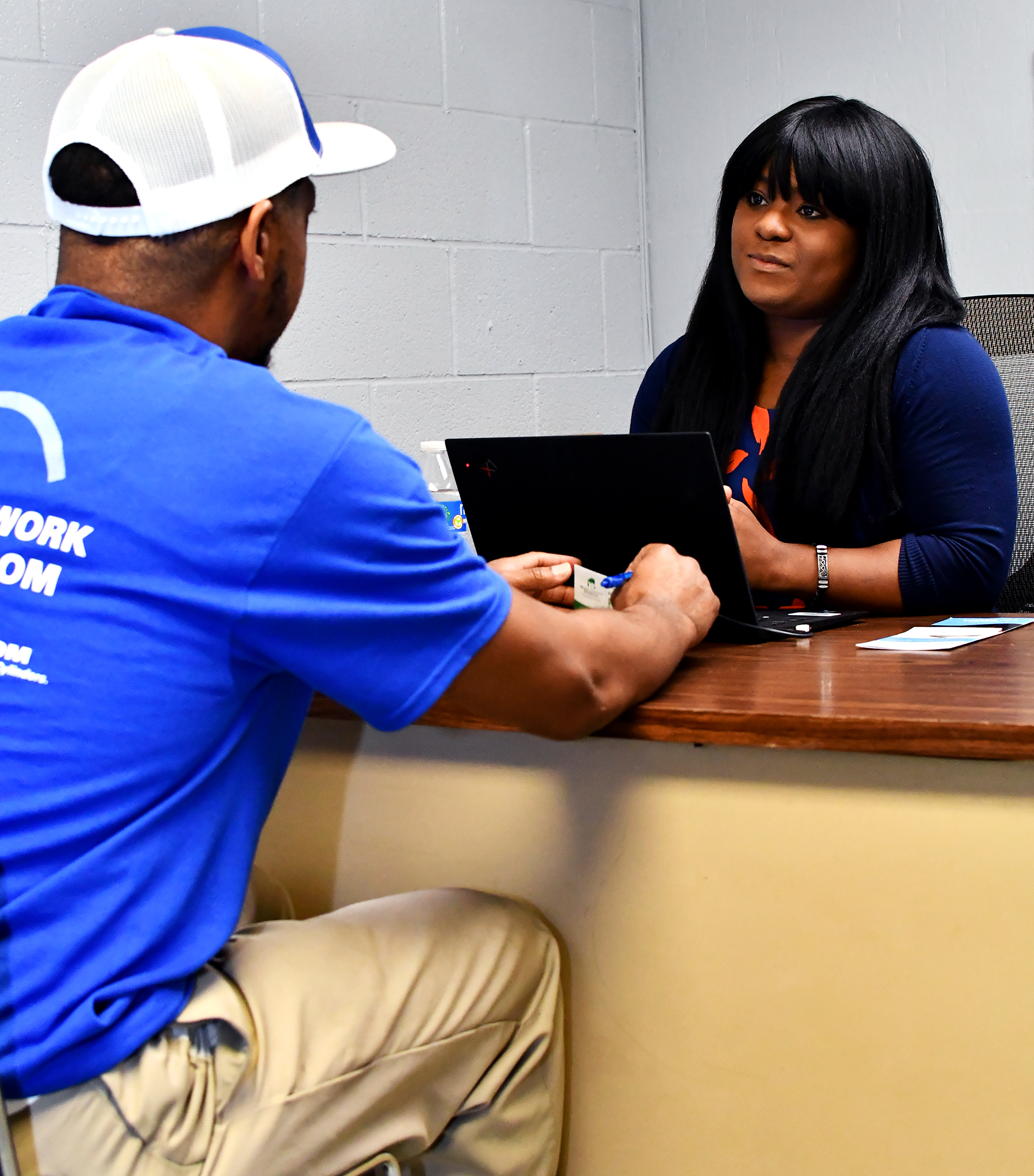 ERN Success Coach Whitnee Smith meets with an employee.